As we grow older, even tasks that were once simple can seem daunting with age. Our muscles gradually lose strength, and our bones tend to shrink in size and density. These factors also make us more susceptible to injuries should we suffer a bad fall.
Naturally, you can see how the kitchen may potentially be a safety hazard for the elderly. As we wash and prepare the ingredients, the kitchen floors can get wet, transforming them into a slipping hazard. And this is not the only element that contributes to an unsafe kitchen.
If you have ageing parents living with you, you may want to consider remodelling your kitchen to ensure it is more elderly-friendly. However, if you are unsure of where to start, fret not! Allow us to share several home renovation ideas you can consider as you begin redesigning your kitchen.
Tip #1: Better lighting
Given the various potential hazards present in the kitchen – such as sharp tools, fire, and obstructions on the ground (boxes and bins) – visual clarity is crucial for seniors who enjoy working in this space.
When developing your kitchen renovation plan, make sure there is sufficient lighting above and inside cabinets, in storage areas, and over the countertops. A well-lit kitchen will make it easier for your elderly parent to locate what they are looking for and prevent them from cutting themselves when chopping the ingredients.
Consider installing rocker switches to accommodate those with decreased hand-eye coordination and weakened muscles. Additionally, ensure these switches are located at the entryway so that your elderly parents do not have to stumble in the dark to turn on the lights at night.
Tip #2: Wall-mounted appliances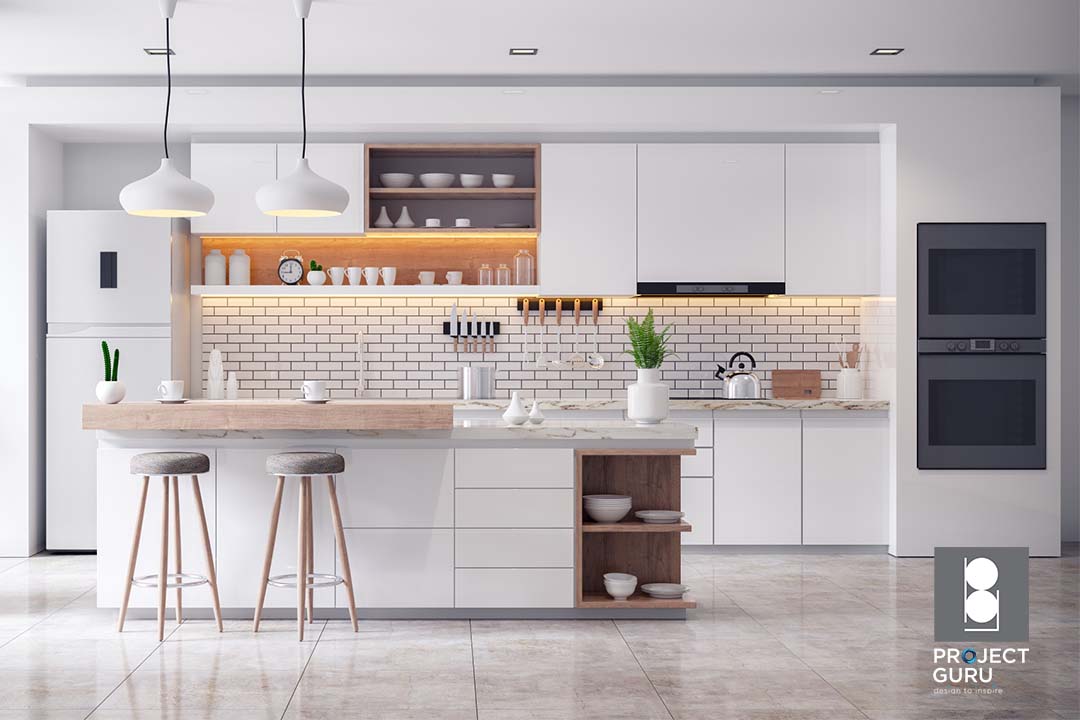 A kitchen is incomplete without the relevant cooking appliances. As you begin shopping for a new microwave or oven to decorate your kitchen, you should look to purchase built-in appliances. These devices take up less counter space, and their plugs are less exposed, representing a lower safety risk when situated close to wet areas like the sink.
It is vital for you to consider this factor as part of your kitchen renovation redesign. By accounting for the space required to set up your wall-mounted appliances, you can dedicate an area to install them at a convenient height. Doing so is beneficial to your ageing parent as they do not have to bend down or reach above their shoulders to use the devices.
Tip #3: Senior-smart storage
Home interior design ideas that accommodate the elderly need not always require you to remodel the entire area. Even something as simple as putting a bit of thought into storing your kitchenware can go a long way in creating an elderly-friendly kitchen.
Keep a lookout for the items commonly used in the kitchen, and make sure they are stored at a location that is easily accessible without bending over or using a stool. Avoid storing heavy cookware in higher cabinets, and keep your cutleries at waist level.
An excellent tip is to keep your seasonings (sugar and salt) and bottled ingredients (ketchup and soy sauce) on a lazy susan or utilise a multi-tier spice rack so your ageing parent can access these items easily when they are preparing a meal.
Tip #4: Safe floors
One of the most crucial components you should not overlook in your kitchen renovation is the flooring. It is tempting to ignore this aspect of your kitchen remodelling when the flooring remains well-maintained. But you should not overlook the risks slippery tiles can pose to your ageing parents, especially if your kitchen utilises vitrified tiles or marble flooring.
We highly advise anti-skid floorings, such as non-slip vinyl or honed granite, as these tiles will give seniors a better grip when they are moving about in the kitchen. Mishaps are also minimised even if your elderly parents utilise a walker.
At the end of the day, the safety and well-being of your elderly parents should be your utmost priority. Your loved ones will appreciate the thought and effort demonstrated to ensure increased convenience whenever they access the kitchen.
At Project Guru, our interior design team in Singapore specialises in unique home renovation ideas that cater to the needs of our clients. Whether you are planning a BTO or HDB resale renovation, do not hesitate to contact us today to learn how we can turn your dream home into a reality!